Helping Investors Catch the Critical Turns
Bert Dohmen wrote in 2007: "You can prosper during the coming, devastating bear market. It will make the bear market of 2000-2002 look like a walk in the park."
"Buy and Hold" is dead!"
In 2007, Bert Dohmen wrote the book, PRELUDE TO MELTDOWN, predicting a monumental global crisis in 2008. Most investors didn't believe that. It's a fact that "denial" is the most destructive of our emotions. It's human nature not to want to believe the possibility of something very unpleasant.
And on Sept. 4, 2008, the very day the credit crisis became serious, he recommended that our clients buy the inverse ETFs, which are designed to rise in price as the sectors or indices plunge. These had extraordinary gains over the next five weeks, gaining an average of 72% during that time.
Private Portfolios Performance During the Crash of 2008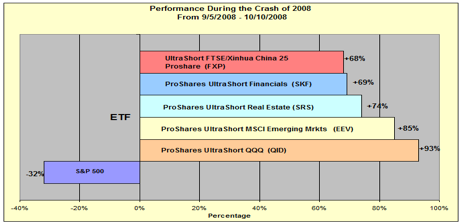 Our clients were smiling during the crisis, as they have been during EVERY BEAR MARKET over the past 41 years.
Our website contains our major market calls over the past 41 years. The 'TRACK RECORD' section contains data going back several decades.